BENCHTOP DISHWASHER INSTALLATION
Nobody that we know likes washing dishes. It is just one of those annoying mundane tasks that can be a bit too boring. The best solution to this annoying task is get a benchtop dishwasher installation today. The perfect appliance for you, especially if you don't have the space to install a traditional in-built dishwasher. This will just sit quaintly on your benchtop and do all the dish cleaning for you. The perfect fit for studio apartments, a benchtop dishwasher is not too costly either and doesn't take up too much water or consume a lot of energy. They are ideal for small kitchens and if you are a renter, then this is the way to go. Just call our team for an installation service today.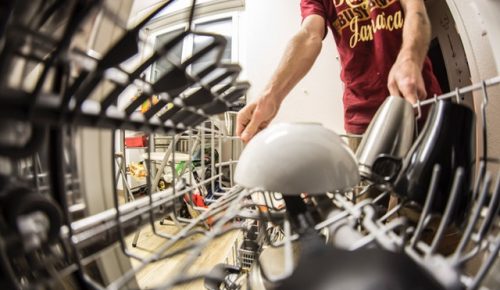 What Are Benchtop Dishwashers?

These are compact dishwashers that can sit on top of the benchtop. They are compact in size yet can fit in at least six things in it at one time. You just need one little corner for these dishwashers and that is it. A benchtop dishwasher installation is not a very complicated process. It just requires connecting the dishwasher to a tap or the main water supply in your home. Furthermore, these small little dishwashers have a very compact look and can make your kitchen look clean and presentable. There are several brands available in the market. You can choose from white wash finishes to a stainless steel finish from brands such as Omega, Miele, Ilve, Everdure and Kogan. These dishwashers are almost half the price of a full-sized dishwasher. So, you can save up a lot with these small dishwashers. As part of the installation, our team will simply inspect the tap connection or the main water supply pipe for any possible plumbing problems. Once we have deemed all systems to be in working condition, we will install the appliance.
Licensed Technicians – Appliance nstallation
We understand that a benchtop dishwasher installation seems like an easy task and agree that it is simple. However, we always tell our customers to get an appliance installed by licensed and certified professionals. Getting a professional plumber to install it for you might cost you a bit extra but it will be worth it. If the work is done by a licensed professional, they can ensure all fittings are fixed appropriately and there are no plumbing problems that can arise after the installation. Getting he work done by licensed technicians will also ensure that your appliance's warranty will remain intact.
24Hour Melbourne Plumbers – Installation Services

The team at 24Hour Melbourne Plumbers is very dedicated and efficient. We take every job very seriously, whether it is a small task or a big one. Once you give us a call, you can relax because our team will make sure that the work is done without any trouble being caused to you. We will ensure that your home is left absolutely spotless once we are done with the installation. Additionally, we can also fix any plumbing issue you may be facing. All you need to do is get in touch with our team immediately. CALL US TODAY!