EMERGENCY PLUMBING SERVICES
Need a plumber in Melbourne now? Call the experts at 24Hour Melbourne Plumbers with several years'of experience and offering same day 24/7 service!
Do you have a plumbing emergency? Need a plumber in Melbourne at your door quickly? For installations, repairs, maintenance, and service within the hour call 24Hour Plumbers Melbourne!
Our team is available all day and all week to provide immediate plumbing solutions for you. Whether it is a small leak or a burst pipe, if you call us we'll come and fix it no matter what the time is. We know that emergencies can come up at any time, and getting a plumbing issue fixed right away is the right decision. Overlooking any sort of plumbing problem can lead to a number of problems later on. So, avoid spending money on further repairs or buying new products, just get it fixed on the right day at the right time. Call us!
Emergency Plumber Melbourne, We Can Assist With:
24Hour Plumbers Melbourne in Melbourne are licensed and qualified to deliver a number of services including:
Gas fitting – leaks, repairs and installation
Hot Water Units and Pipework Services
Blocked Drains, Toilets, Showers, Sewage, and more
Tap repairs and installation
Our vans are equipped with all the tools and parts needed for any job. This means we don't waste time making more trips than necessary, running around for parts. We are experienced working with all types of hot water systems, and can even do same-day replacements if needed. If you're thinking about upgrading to a different hot water system altogether, give us a call. Our plumbers in Melbourne can offer some helpful advice when choosing the best hot water heater for your needs. For all gas fitting installations, repairs or maintenance, it's always best to use a qualified gasfitter. 24Hour Plumbers Melbourne are fully licensed and will issue a certificate of compliance for all gas fitting work. This gives you the peace of mind that the job has been done properly.
Your Trusted Plumber In Melbourne

We have been Melbourne's go-to emergency plumber of choice for many years. 24Hour Melbourne Plumbers is your primary choice for high quality plumbing contractors. We have experience operating on many different properties. We offer repairs, fixtures and replacing of minor and major issues in houses, homes, apartments, buildings, shops, restaurants, student accommodations, factories and more. We offer our expertise and experience at a very reasonable price. Being different from traditional companies, we aim to help and offer budget friendly solutions. We operate in almost all suburbs in metropolitan Melbourne, Bayside area, inner and outer suburbs. We highly specialise in quick response to plumbing emergencies and maintenance.
Whatever your issue is, we will know how to help, whether you have rusty pipes, clogged sinks and showers, gas leaks and high energy bill, leaking pipes or cold water. We will remedy any issue at a fair price and leave your place in a pristine condition.
Our expertise involves many year of practice and as such we know the tricks of the trade. Gas fittings, Welding, air conditioning, repair and replacement of gas and water pipework – we do it all, plumbing has no secrets.
So when your shower or bath drains are clogged, avoid the mess and flood. If you do not have any hot water anymore, don't wait for a disaster to happen. There is only one solution, call 24Hour Emergency Plumber Melbourne and we will fix you up!
Emergency Plumbing Melbourne Services – 24 Hours A Day

If you are exhausted of waiting for a plumber who never turns up, you can rely on us, we will come on time according to the appointment time. We will always show up!
We guarantee a same day plumbing service and will be on time, every time, 24 hours, 7 days a week for your plumbing emergency in Melbourne.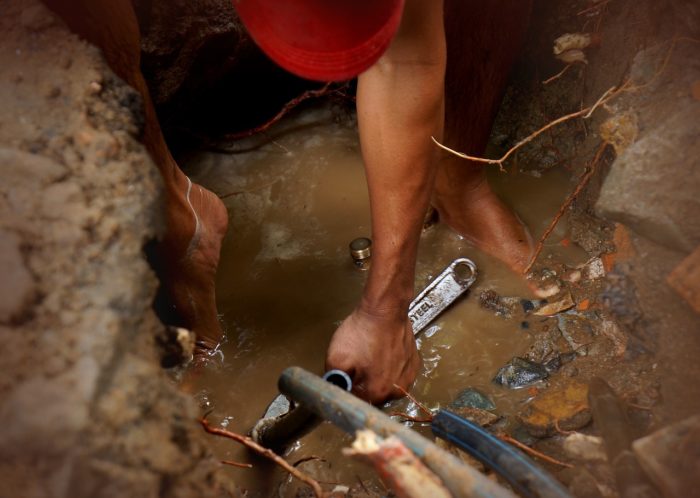 If you've got a plumbing emergency on your hands, 24Hour Plumber Melbourne are here to help. We can get a plumber to you within an hour and get you back on your feet even on public holidays. With competitive rates and professional service, we aim to exceed your expectations at all costs. It's these values, hard work and quality service, that lets us give you an amazing plumbing job every time. In fact, call us today and mention our website, and you'll get $55 cashback on your order.
We offer a wide range of services from pipe repair to sink, shower and water heater installation. So if you need a plumber for your home or business in Melbourne or any of its suburbs, give us a call today and experience the difference a professional master plumber can make for your plumbing.
Workmanship Quality Guaranteed Or We Come Back For Free!
Tired of waiting on plumbers that never show up? With our 24 Hour emergency team, plumbing worries are a thing of the past. All of our plumbers are equipped with GPS, so we know exactly who to send for the fastest response, and whether or not they've completed your job to the best of their abilities. We pride ourselves on quality and we're confident you'll be satisfied with our work.
We can fix your plumbing at any time. Our emergency hotline is up and running, and our fantastic team ready to solve your plumbing problems at a moment's notice. Maybe you've had a bad experience with dodgy plumbing jobs in the past? It's reasons like this that every member of our team is fully licensed, insured and professionally trained regularly to ensure quality service every time. Our Emergency Plumbing Service is also available 24/7 to help you with your emergency plumbing situations.
Call Us Today For Any
Plumbing Emergency

A single call to 24Hour Melbourne Plumbers will provide you with quick, easy access to experienced plumbing professionals that will provide a variety of services ranging from basic maintenance and repairs to emergency drain cleaning and sewer repair.
With almost 30 years of experience in the repair and maintenance of gas heaters, hot water systems, and a multitude of other plumbing tasks, 24Hour Melbourne Plumbers is one of the leading providers of plumbing services across Melbourne. Throughout our history, we have diligently maintained our reputation for being quick, devoted and reliable, regardless of the task at hand. 24Hour Melbourne Plumbers will spend time working with you to understand your concerns and prepare a solution that best suits your situation and budget.
Whether the situation necessitates an emergency plumber throughout the Melbourne area or a simple kitchen tap repair, we take every job seriously and strive to complete the task as efficiently as possible to avoid disrupting your schedule. Whatever your needs, 24Hour Melbourne Plumbers are prepared for all plumbing issues that you might come across – 7 days a week.