To deal with your blocked drains Bentleigh problem you need professional plumbers on the scene right away. 24Hour Melbourne Plumbers are known for their fast response, getting to your Bentleigh address without delay and freeing your blocked drains. Expect fast, problem-free service that will give you guaranteed, long-lasting results. Whether it's the kitchen or bathroom drains, your stormwater drains, gutters piping and sewage system, our experience across residential and commercial plumbing allows us to deal with any problem safely and efficiently.
We are available at your convenience as we operate 24/7. Whenever you have a blocked drain, don't let the problem fester. It needs urgent care. Call 24Hour Melbourne Plumbers right away to dislodge the blockage and make sure your drains are working at top form so it won't disturb your daily routine again.
24/7 Emergency Plumbing Service For Bentleigh Blocked Drains
When you have a blocked drain, it is unwise to try solving the problem yourself. You don't have the right equipment on hand and will risk further damaging your drain pipes. If it's a toilet drain, refrain from repeatedly flushing despite what you're led to believe as it will only cause more problems for your blockage. When you notice clogging, the first thing you need to do is call our emergency plumbers at 24Hour Melbourne Plumbers. Our professionally licensed team provides insured services for your plumbing needs. We will get to your doorstep and quickly unclog your drains while making sure there is no further damage. Available at all hours every day, you only need to contact us and we will fix your blocked drains immediately so you can return to your day-to-day life without interruption. To regain full access to your water and disposal routes, call 24Hour Melbourne Plumbers now for long-lasting repairs, installation and maintenance of your drains.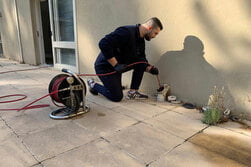 Our Plumbers Can Fix, Renew and Maintain Your Plumbing
Our experience throughout residential and commercial plumbing makes us the most trusted plumbing team to deal with your blocked drains. 24Hour Melbourne Plumbers can free your clogged drains, offer repairs and pipe relining services, helping you save up on costs and providing time-saving, long-lasting solutions. We will fully investigate the source of your blockage whether it's buildup from foreign materials, stormwater debris, trash, waste products and more, inspect the extent of damage it has caused to your drains and provide advice for the best outcome. If repairs aren't enough and there is an underlying issue found with your plumbing system that is beyond fixing, we can complete full installations for new drain systems. A complete drain replacement will prevent higher repair costs in the long run and won't inconvenience you with frequent problems. We also highly recommend our regular preventive maintenance services to ensure your drains' sanitation and best working performance.
Call Our 24/7 Emergency Plumbers To Unclog Your Drains
24Hour Melbourne Plumbers has solved a variety of residential and commercial plumbing problems, big or small, to help homeowners and businesses in Bentleigh and across various Melbourne suburbs. When your drains are blocked, our plumbers can get rid of the obstruction and restore them to full working order so your routine won't be inconvenienced. You'll have complete access to your water again and won't need to worry about disposal or hygiene. We carry out our work quickly and efficiently, with clean, robust results to optimise your drains' working performance so you'll never have to tidy after us or worry about future problems. We also do regular maintenance so you can avoid frequent clogging, have your general upkeep taken care of and extend the lifespan of your plumbing. Reliable, quick to respond and affordable, get help from 24Hour Melbourne Plumbers' professional plumbing team today!