Is your leaky roof causing structural damage to your entire property? Well, that can happen if you overlook the indications of an invisible roof leak. No matter if you're a school, office, restaurant or a café, maintaining the roof of your property is a very important responsibility. Overlooking the smallest of problems can lead to major structural damage that you want to avoid. The cost of maintaining a commercial property is anyway quite expensive, adding frequent roof repairs can be quite expensive. In this case, get in touch with our commercial roof plumber team providing the finest roofing services in Melbourne. A simple leak can turn into a catastrophe for a larger commercial property. Moreover, all commercial properties are either directly serving customers of their own or doing so indirectly, which is why maintaining the health of the building is of utmost importance. At 24Hour Melbourne Plumbers, we understand the importance of maintaining your roof along with your business. Call us today for roof repair or replacement.
Commercial Buildings – Expert Roofing

As we have said before, the cost of maintaining a commercial building is way more expensive than a residential property. The cost of electricity and gas, along with cleanliness and handling the business itself, maintaining the roof and gutter is equally important. Roofs are exposed to a lot in the span of a single day. From extreme weather to normal wear and tear with time, your roofs go through a lot. The most common problems that arise with a roof is leaks; leaks within the roof, ceiling or the gutter. Whether the leak is visible or not, it needs to be repaired immediately by a commercial roof plumber. Leaks can easily lead to rot and mold growth within the walls or it can create damp patches on the ceiling. Constant exposure to these can lead to infections which is never good for business. Whether it is your employees or customer, ensuring their safety and good health is your responsibility. So, for your commercial property you can get in touch with our roof plumbers for repair work today.
Our roofing services extend to various commercial properties all over Melbourne. The team at 24Hour Melbourne Plumbers has the knowledge and experience to carry out any commercial roofing projects. We provide a wide range of services to commercial and industrial buildings. Our services reach out to-
School and Government buildings
Hotels, restaurants and cafes
Small and large commercial buildings
Corporate offices and factories
Sporting and amphitheater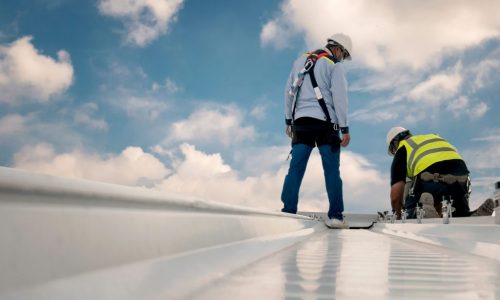 The team of commercial roof plumbers at 24Hour Melbourne Plumbers is highly qualified and insured. We believe in sticking to the Australian Standards rules and regulations laid down for the industry. More importantly, we have a strong work ethic and provide a wide range of services to all our customers-
Colorbond roof installation • Re-roofing
Gutter installation and services
Call For Commercial Roof Plumber Today!

Wherever you are in Melbourne, we can get to you ASAP. Our team can easily repair or replace the tiles/ metal sheets on your roof. We will take care of any leaks, clean out your gutter and ensure that all that rain water goes down smoothly. Additionally, we also provide 24 hour emergency commercial roof plumber service, just call us at any time of the day. We ill be there with all the required materials and tools, and get the work done in no time. The team at 24Hour Melbourne Plumbers consists of highly trained and qualified roof plumbers. You can rest assured that your roofs are in good hands, we have truly got covered. Give us a call today!