Roof Plumber Western Suburbs Melbourne
Are strong winds making your house rattle? The crazy weather conditions in Melbourne can be a great strain on your roofs. From extreme heat, to crazy rains and strong winds, this is a normal day in Melbourne. These extreme weather conditions can create problems for your roof and you might just need a roof plumber northern suburbs Melbourne. This is the time you need the expertise of a roof plumber. At 24Hour Melbourne Plumbers, we understand the importance of a roof and will get to your location in no time to fix the roof. Regular maintenance or a roof restoration will easily ensure that your roofs last longer. Our plumbers can fix you roof as well as any issue that may have creating trouble in the gutter or gutter drain. We will do it all from unblocking a gutter drain to installing a colorbond roof.
Affordable Roof Plumbing Services In Western Suburbs
Roof repairs are costly and require quite a bit of work and manpower. It is important to avoid your roof from getting majorly damaged, this will save you time and money. This is only possible if you get a regular maintenance service for your roof and we provide maintenance at affordable rates. We have been in the industry long enough to give our customers quality service at competitive rates. Whether it is a small leak or a big break I the roof, just call us, because if a problem is left unattended for long it can create a lot more trouble later.
All the roof plumbers at 24Hour Melbourne Plumbers in the Western Suburbs are highly qualified and trained professionals. Your roofs are very important and need to be in perfect condition. If you need your roof re-stored or re-tiled, we can help out. We are a team of highly qualified professionals who are aware of all the Australian Standard rules for the plumbing industry. Our team is extremely efficient and precise in every job they do; from the measurement to the cutting of tiles, everything task is performed to perfection. The roofing services at 24Hour Melbourne Plumbers is available for residential and commercial properties in Western Suburbs Melbourne. Call our team of expert.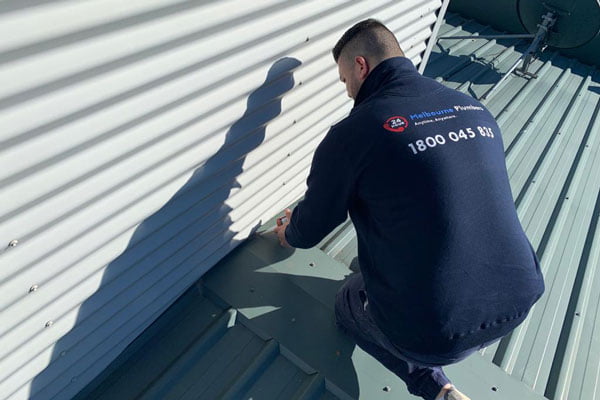 Roof Plumbing – Professional Plumbers
We provide roofing services not just for residential properties, but also cater to commercial properties. The attention to detail required when working on commercial properties is even more; since our clients are also serving their own set of customers. So, even the smallest problem in the roof should be fixed immediately to avoid any problems later. A common problem related to roofs is leaks. Many times roof leaks are not easily visible and can damage your property without your knowledge.
Leaks can lead to the spreading of mould and mildew, can affect your home insulation and the electrical system. Any problem to electrical system will lead to short circuits that can be quite dangerous. In such a case, always look out for these indications mentioned above and if you feel any of these problems come up, give us a call.
These problems can be easily solved with the help of our professional roof plumber from Western Suburb Melbourne. Our team can find the source of the problem and fix it. We also provide roof replacement or a complete installation service. Colorbond roofing, metal roofing or tile replacement, are some of the services we provide. Whether your roof has caved-in or needs a small repair, we can fix it for you. In addition, we can do a complete re-installation of a new roof for your home. Our experts can provide you with several roof options and also give you sustainable options.
24Hour Melbourne Plumbers – Roof & Gutter Services
If you are located in the Western Suburbs Melbourne, you can get a roof plumber to your location in no time. We give emergency roof plumber services all over Melbourne. Our team is always working, we will also be there on public holidays. We get to your location within the hour and get the job done as quickly as possible.