Historically Plumber Of Choice
For more than a decade, we have been servicing Albion and Kealba and St Albans attending to any plumbing needs. Whether it is an emergency or general maintenance, we guarantee a quality and professional service that's not only prompt but also cost-effective. Maybe you've got leaky faucets or your water heater in St Albans is making weird sounds. We're available for a variety of jobs and always make sure you know the procedures and prices. In other words, you can forget surprises on the final check. We value not only a comprehensive fix but also one that is transparent, reliable and efficient. From roof plumbing to renovations and everything in between, give our Plumber St Albans team a call today and enjoy the peace of mind that comes with a complete service.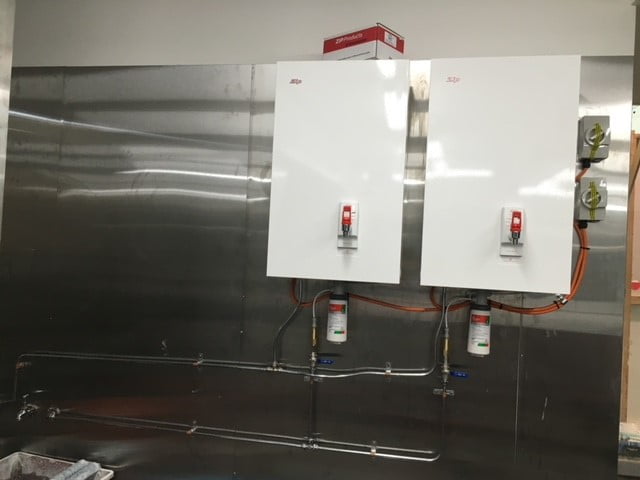 Getting Your Hot Water Heaters Fixed

When you live in St Albans, hot water issues can be an irritating factor. It's not just the fact that icy cold showers aren't appealing, but the actual cause for having cold water could be due to a variety of factors. Moreover, if not attended to immediately, it could cause further issues resulting in wasted time and money. So what exactly are some of the common causes that Plumber St Albans has come across?
Faulty Thermostats
Your typical hot water system will not have just one thermostat. In most cases, it'll have two, along with a pair of heating elements. The thermostats work to tell the heater exactly when to heat up. You can imagine, within this cycle, what issues could occur due to a defective thermostat. This may result not only in cold showers but excessively hot ones as well!
Defective Heating And Cooling
Your typical hot water system acts much like a large kettle. How? Well, the majority of electric hot water systems are insulated cylindrical tanks. The insulation acts to preserve the heated water. The water is heated by heating elements as discussed above. If the elements are past their life cycle, worn or defective, then you'll most likely have hot water issues. More specifically, the function to effectively heat up water within the tank.
Plumbing Issues In St Albans?
The majority of plumbing issues require a professional service. Not just simply to get the job done quickly, but due to regulations that relate to safety and building compliance. However, a simple cause for hot water issues could be down to a tripped circuit breaker. If you have access, you can quickly take a look at your circuit breaker and see if you can switch it back on if it has indeed tripped. If it has, but will not stay on after you flick the switch, your circuitry may require a certified electrician.
Best Emergency Plumber In St Albans

What makes us the best plumbing company in Melbourne? We guarantee our workmanship for life, our team undergoes training and are licensed. Being available 24/7, having a 100% commitment to customer service and having sensible/affordable rates are only a few of the reasons to pick 24Hour Plumber Melbourne St Albans as your go-to guys for plumbing. We provide timely and efficient service. We have become a trusted service by constantly proving our reliability and high-quality plumbing services. With 24Hour Plumber Melbourne St Albans, customers always know that they have a plumber who is friendly, skilled and quick. These are just a few of the many reasons why we are the plumbers Melbourne has been calling on for.
Licensed, professional and experienced Melbourne plumbers: 24Hour Plumber Melbourne St Albans are available to help you with any plumbing issue that may arise. Our crews' knowledge and skills are continually improving as we are using the latest technology.
We use GPS technology to stay on time: We can track all our workers' vehicles using GPS so we are always on time to respond to your needs. This allows us to send the closest available plumber to your location in no time for a rapid response.
We provide same day service: Our Plumber St Albans has a vehicle with all the required tools needed to fix all your plumbing issues on the spot.
We strongly believe in transparent pricing: We charge by the job and not by the hour so there will be no hidden surcharge when receiving your bill.
We keep you informed every step of the way: At 24Hour Plumber St Albans, we give you an informed explanation of all the amenities needed. We will offer you different options with the right advice for a long term solution.
Our team is available year round: Our team is available 24/7, 365 days a year (including public holidays) and can take your call for same day services.
Our Workmanship and labour guarantee: Quality work with the offer of the lifetime warranty and lifetime work guarantee is a part of who we are. We are confident that you will be 100% satisfied with our work and stick with us as your plumbers for life
Find Your Closest Plumber In St Albans

As we've seen, hot water issues can be due to a number of reasons. If there's an electrical fault, this may be something an electrician may need to look into further. But for defective thermostats, heating elements or even leaks, we have a team of Plumber in St Albans of licensed and insured plumbers that are ready to get it sorted, quickly and thoroughly. Additionally, if you've had your hot water system for a while, it could simply be due to age.
We Also Provide Plumbing Services in