24Hour Meloburne Plumbers is known for providing the fines and most efficient gas leak repair service in Melbourne. Our qualified and insured gas plumbers are here to ensure that you are never in danger due to a gas leak. A leak can arise at any time of the day and needs to be dealt with at the earliest. In fact, we would categorise a gas leak as an emergency. From the moment you give us a call till the time one of our plumbers arrives at your place, we remain in constant contact with you. Whether it is a commerical property or a residence, our plumbers will fix the leak as quickly as they can.
We use advanced GPS tracking technology and communication systems for all our jobs. This lets us find the closest 24Hour Plumber to you and ensures our vans can get to you quickly when it counts the most. Our priority is to get straight to the source of the gas leak and safely repair it. The 24hour Melbourne Plumbers team arrives fully prepared for every situation. Our vans are stocked with all the equipment, tools and spare parts needed for efficient gas leak repairs. If you've got a gas leak, or you're worried about gas leaking in your home, give our plumbers a call today!
Regular Inspection Of Gas Appliances

Regular maintenance of your gas appliances will ensure that you don't need gas leak repair very often. Gas is a very tricky material to deal with. Natural gas is much lighter than air and can quickly dissipate into the atmosphere. However, in a closed room this can create a risk to people's health and safety.
When it comes to regular inspections, Carbon Monoxide (CO) Testing is very important. Carbon Monoxide is a colourless and odourless gas that can cause loads of health risks, and in some cases death. You need to call a professional right away and make sure that your gas appliances have a regular CO testing done every two years. This ensures that your appliances last longer as well.
Remember, gas leaks that remain unchecked can lead to catastrophic property damage and cost you a lot more than just money. As it is well-known that gas is highly flammable, so the smallest spark can trigger the biggest fire.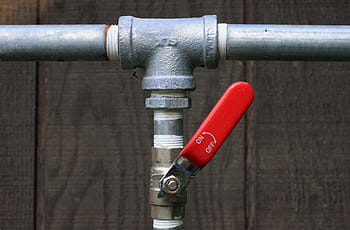 Gas Leak Repair- Professional Gas Plumbers
One of the most common questions we are asked is, what to do when you smell gas? Natural gas as well as LPG has a special chemical added to them so that they can be smelled. So, if you do smell gas, the first step is to to cut off the main supply. Once you have closed the main supply of gas, open all the doors and windows to let some fresh air in. Your final step should be to call us.
The first two steps ensure your safety, the safety of the people around you and your property's safety. Once, you call us we make sure that our gas leak repair emergency plaumbers reach you as quickly as possible. We don't believe in leaving the job for another day. Gas leaks are a serious matter and need to addressed right away!
Indicators To Look Out For
Gas leaks can sometimes go undetected which is much worse. If you have gas appliances, you have to always be prepared. Hissing or whistling noises from your appliances, changes in colour of the gas flame, patches of discoloured or dry grass, higher than normal gas bills, etc. are all indications of a gas leak. If you have a gas hot water system, a problem with the water temperature can indicate a leak.
However, the most important thing you need to look out for is leaks that cannot be detected. For instance a leak in the main gas pipeline, would not be detected that easily. Dry gas patches and a constant extinguishing flame on stovetop are indicators that you need to be alert of. In such a case, a gas leak repair needs to be done. We at 24Hour Melbourne Plumbers don't just provide you with repairs but will also install a new pipe. Our team also excels in pipe re-lining service which ensures the leak is repaired and your pipe last longer.
Gas Experts At Your Service
Our goal is to provide every customer with the finest gas leak repair service in Melbourne. We have a very strict work ethic and are constantly training our team to keep up with any new developments in plumbing technology.
We provide regular inspection of your gas appliances and will install them. Our team of professionals also offer advice as to which system is right for you. The team at 24Hour Melbourne Plumbers is competent in dealing with gas appliances of various brands available in the market.
We use the finest of equipment and technology for your gas pipes and appliances. A regular inspection from us will ensure that your appliances last longer and that your life remains safe and intact.
Call The Experts – Emergency Services

Gas leaks by nature can be seen as an emergency and must be dealt with immdeiately. We know that an emergency doesn't come with a warning which is why we are always prepared for your phone call. NEVER ignore a gas leak, is what we tell all our customers. This is not something you can put off for the next day. The smallest spark in a gas leak can ruin everything. So, ensure your safety and the safety of others, and if you feel the slightest of doubt about a leak call us.