Have you ever had water dripping on your head because of a leaking roof? Our plumber Belgrave will be there to fix any problems you may be facing. 24Hours Melbourne Plumbers has a team of licensed and insured plumbers who can fix all plumbing problems in no time. From fixing roofs and hot water systems to blocked drains and gas leaks, we have the skills and expertise to fix everything. Furthermore, our services extend from residential to commercial and industrial properties as well. We have been in the business for over a decade and are aware of all the nitty-gritty of the industry. Our team consists of dedicated professionals who have experience in dealing with all brands of appliances available in the market and carry spare parts for the same. We are here to provide you with the finest plumbing services in all of Melbourne. No need to prolong any plumbing problem, just call us.
Professional Plumbing Services

If you are looking for a plumber to repair your plumbing system as quickly and efficiently as possible, you have come to the right place. 24Hours Melbourne Plumbers have the finest team of plumbers always at your service. Our team is here to offer you a range of several services at any given time. All you have to do is, look for the service you need and call us. Here is a list of popular services-
Hot Water Systems
Don't take cold showers in winter and torture your body. Everyone deserves a nice hot shower after a long day at work. We can easily repair or replace parts in your hot water system.
Roof And Gutters
Nobody wants a leaking roof. It's not only frustrating but can be quite damaging to the entire property. Our plumbers are expert roofers and can fix that roof in no time.
Heating And Cooling
Want your home to feel like spring all year long? We can install a heating and cooling system that can easily maintain the temperature inside your home. Our team provides installation, repairs, and maintenance services.
Blocked Pipes
A blockage can literally put a stop to anything you might be doing at the time. The best thing to do is to deal with the problem right away. Our plumbers have also blocked drain specialists who can easily fix your blocked drain problems.
In addition, our team can provide you with other services like
appliance installation
, water filter installation, sewer pipe relining, backflow prevention. Along with that, we offer consultations and expert advice on the phone. If you have queries regarding plumbing, buying new appliances, or the planning of your new bathroom, just call us. Our experts will always be there to help you out. No matter what you ask, we will answer your query. Our team is here to help you out no matter what. So, get in touch with our plumbers in Belgrave today!
Expert Plumbers In Melbourne

24Hours Melbourne Plumbers provide a 100% workmanship guarantee. Our goal is to ensure your comfort and safety at all times. We are a team of licensed and insured plumbers, along with that we are also certified gas fitters. Our team has the skills and expertise to handle your gas appliances and gas pipelines. Furthermore, all our plumbers are aware of all the industry rules and regulations and keep themselves updated with any changes in industry technology. Additionally, we are very particular about being on time and maintaining the cleanliness of your space. Our services are offered all over Melbourne and its suburbs and are very affordable at the same time. There is nothing stopping you from calling us. No need to look any further for a plumber to fix your plumbing system. Just give us a call.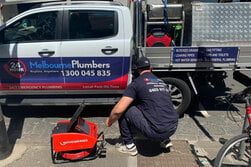 Emergency Plumber Belgrave

The team at 24Hours Melbourne Plumbers know how frustrating and sometimes even hazardous plumbing emergencies can be. This is the reason why we are always ready for your call. Our emergency plumber Belgrave team is available 24 hours a day and 7 days a week, even on public holidays. It doesn't matter if the problem is big or small, our plumbers will be there to fix it.
We Also Provide Plumbing Services in